No free parking or hot tub ragers: Tourist destinations tighten their rules​
By
Harriet Baskas
View the article
here
:
As travel demand continues to rebound, some popular locales are rethinking how many visitors to welcome and what types of activities to accept — or charge for.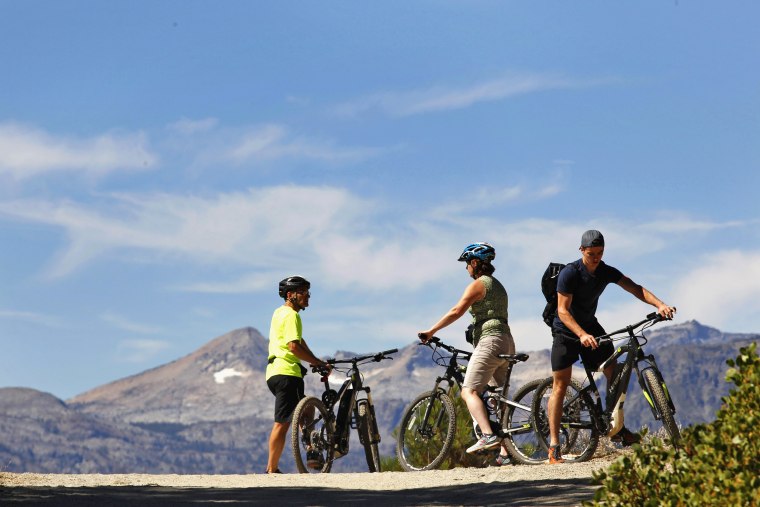 Cyclists on a trail in South Lake Tahoe, Calif., in 2018. The region has had an influx of tourists since the pandemic began.Michael Macor / San Francisco Chronicle via AP file
Americans embarking on spring break trips and summer vacations this year face a bevy of new fees, rules and restrictions in some popular destinations that are rethinking how many visitors to welcome and what types of behavior to accept.
As the post-pandemic travel rebound continues, the return of tourists — and their wallets — is good news for most destinations. At the start of this year, more than half of Americans had plans to travel in the next six months, according to the U.S. Travel Association, and a third of leisure travelers are planning to travel more this year than last.
But taking a page from Venice, Italy, which banned cruise ships in 2021, and Amsterdam, which is launching a campaign to discourage its rowdiest revelers, many U.S. cities are welcoming back visitors on new terms — in some cases with higher price tags.
This year, the Lake Tahoe, California, region had the misfortune to land on Fodor's Travel's list of places to reconsider visiting in 2023, after suffering traffic congestion, crowded hiking paths and trashed beaches. It was the downside of a pandemic-era boom in visitors that many outdoor destinations saw while other activities were suspended or came with greater health risks.
"Locals felt the city was too small for the influx of people coming into town," said Sonia Wheeler, community service officer for the South Lake Tahoe Police Department. "People couldn't get home from the grocery store sometimes because there was too much traffic from tourists heading to or from the ski resorts."
Officials hope to strike a new balance. Policies rolled out during and since the pandemic have tightened restrictions on vacation rentals around Lake Tahoe, with a combination of caps and outright bans in towns along its shoreline.
Sixteen area groups are trying to hammer out a stewardship plan that recognizes that "our environment, our economy and our communities are wholly interconnected," said Tahoe Regional Planning Agency Executive Director Julie Regan. Ideas on the table include parking reservations and encouraging off-peak visits, an agency spokesperson said.